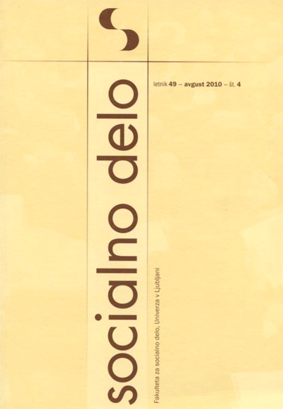 Socialno delo Journal is the only scientific periodical publication for social work in Slovenia. It's been published since 1961. Four issues are published per year: 1 (Jan-Mar), 2 (Apr-Jun), 3 (Jul-Sep), 4 (Oct-Dec). Abstracts are included in data bases: International Bibliography of the Social Sciences IBSS), Sociological Abstracts and EBSCO SocIndex with Full Text. The journal is published by Faculty of Social Work, University of Ljubljana. Journal is so-financed by Slovenian Research Agency (ARRS).
ISSN 0352-7956
Editorial policy
Socialno delo is an open-access peer-reviewed scientific journal that publishes contributions from various areas of theory and practice of social work and related fields. We accept for publication theoretically and methodologically high-quality original and transparent scientific articles in the field of social work that successfully pass the double-blind review process, but we also publish book reviews, polemics, essays, research reports and professional articles. In regular issues, we publish articles that follow research achievements in the field of the development of theory and practice of social work. We also publish thematic issues, which are intended for an in-depth look at current topics or topics that are particularly important for the development of social work. We accept articles for publication from authors from around the world in Slovene or English.
AIMS AND SCOPE of the Socialno delo journal are to inform scientific and professional public about developments and findings in the field of social work. The journal enables a rapid flow of knowledge, promotes scientific research achievements, encourages a deeper understanding of professional work and creates an important knowledge base. By publishing articles in Slovene, it contributes crucially to the development of social work terminology in Slovene. With publications in English, it promotes Slovene science abroad and enables foreign authors to publish in our journal.