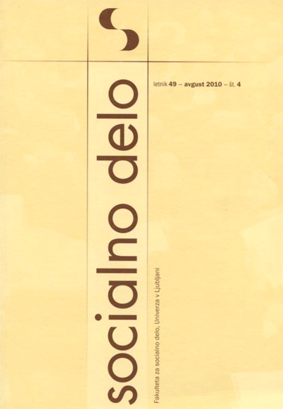 Socialno delo Journal is the only scientific periodical publication for social work in Slovenia. It's been published since 1961. Four issues are published per year: 1 (Jan-Mar), 2 (Apr-Jun), 3 (Jul-Sep), 4 (Oct-Dec). For publication purposes, we accept theoretically and methodologically good-quality, original and review scientific articles from the field of social work that have managed to get a positive double-blind review. We also publish book reviews, polemics, research reports and expert contributions. In regular issues, we publish articles presenting research results on the field of theory and practice of social work. Thematic issues are dedicated to in-depth perspective in current themes or themes that are particularly important for development of social work. For publication, we accept articles in Slovene and English languages. Abstracts are included in data bases: International Bibliography of the Social Sciences IBSS), Sociological Abstracts and EBSCO SocIndex with Full Text.
Kolofon
Date of publication of the website: 2018
Contracting authority: University of Ljubljana, Faculty of social work
Content provider: University of Ljubljana, Faculty of social work
Contractor: Arctur d.o.o.
Project management:
Design:
Realization:
User support:
All rights reserved. All materials contained on this site, including text, graphics, icons and images are object of a contract between the client and the contractor and are copyrighted in compliance with the regulations of the Copyright and Related Rights Act (Official Gazette of the Republic of Slovenia, no. 21-958/1995)
ADS4 is the 4th generation of our in-house content management system more..
4PM is a powerful and intuitive web-based project management system more..