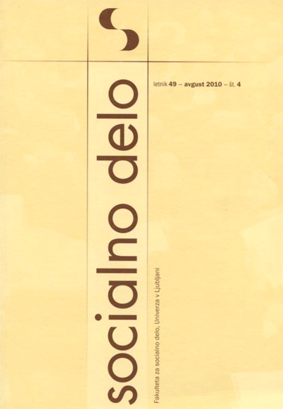 Socialno delo is a peer-reviewed academic journal for social work with a long tradition (since 1957). Four issues are published per year. Articles in Slovenian ('socialno delo' means 'social work') or English are accepted and published. Prospective contributors should read guidelines for authors. The abstracts are processed for these databases: International Bibliography of the Social Sciences (IBSS), Sociological Abstracts, and EBSCO SocIndex with Full Text.
Kolofon
Date of publication of the website: 2018
Contracting authority: University of Ljubljana, Faculty of social work
Content provider: University of Ljubljana, Faculty of social work
Contractor: Arctur d.o.o.
Project management:
Design:
Realization:
User support:
All rights reserved. All materials contained on this site, including text, graphics, icons and images are object of a contract between the client and the contractor and are copyrighted in compliance with the regulations of the Copyright and Related Rights Act (Official Gazette of the Republic of Slovenia, no. 21-958/1995)
ADS4 is the 4th generation of our in-house content management system more..
4PM is a powerful and intuitive web-based project management system more..