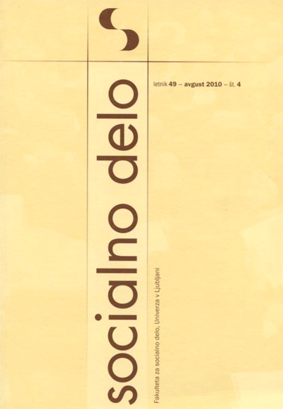 Socialno delo is a peer-reviewed academic journal for social work with a long tradition (since 1957). Four issues are published per year. Articles in Slovenian ('socialno delo' means 'social work') or English are accepted and published. Prospective contributors should read guidelines for authors. The abstracts are processed for these databases: International Bibliography of the Social Sciences (IBSS), Sociological Abstracts, and EBSCO SocIndex with Full Text.
year 59, No.4

View the entire journal
EDITORIAL
SCIENTIFIC ARTICLES
Petra Videmšek
Development of supervision in social care and introducing education for supervisors - Pg. 235 - 253

Keywords:

support, social work, history, curriculum, case study, psychoanalysis.

Based on in-depth interviews with supervisors in the field of social care, the author shows how supervision was implemented in social care system. She presents how supervision in social work was developed historically and argues that initially other theories (learning theories, psychoanalysis, medicine, psychiatry and psychology) had a great influence on the development of the supervision in the field of social work, but that the major changes in the process of supervision were put through by the social work profession. Development of supervision in social work went from traditional, problem-focused supervision (where one needed to analyse what is wrong and then tried to fix the problems) to the paradigm of searching for solutions, and then from solution-focused supervision (with the aim of finding something new and co-create) to positive supervison where the main question is what works best, in order to keep developing this area. The emphasis is put on the strengths and competences of supervisees rather than on their weaknesses and deficits.
Bojana Mesec, Anže, Jurček
History and development of competences in social work education in Slovenia - Pg. 255 - 273

Keywords:

curriculums, Faculty of Social Work, practice, Bologna reform, studies.

Changes in education for social work in Slovenia are presented, with special emphasis put on modernisations of curriculum, required by the Bologna reform. In this period, the Faculty of Social Work, University of Ljubljana, defined 15 general competences for the first time which have remained the same until today. Results of an empirical quantitative reserach carried out among last year students of the 1st level programme are then presented. Students were asked to evaluate the importance of each competence needed for social work practice and professional conduct in practical environments, and then they self-assesed acquired competences. The level of their satisfaction with theoretical and practical knowledge gained during their studies is also presented, as well as a comparison between different elective modules. The last part of the paper includes recommendations for further research.
Gašper Lesar
Intentional and reflective use of silence in social work - Pg. 275 - 291

Keywords:

psychotherapy, support, group, psychodynamics, relationship, help.

In theoretical part, different definitions of intentional and reflective use of silence in processes of support and help are presented, all corroborated with findings of different psychotherapy schools, as there is no relevant social work literature about the topic. Research was focused on experiences of female participants of a support group about a social worker's intentional and reflective use of silence, on their opinion about reasons for using silence, contributions of silence and feelings that emerged in silence. The main finding of this qualitative research: silence enables reflection and more in-depth dealing with thoughts and feelings. Silence allowed the participants to "just exist" and to search for new connections in their lives. In silence, self-censorship was also noticeable. At the same time, relationship and trust were increased due to silence. The group had negative feelings related to opinion, that silence is a waste of time. But these feelings gradually subsided with collaboration and conversation about silence. Negative feelings were then replaced with positive ones, allowing "aha" moments to emerge.
PROFESSIONAL ARTICLES
Teja Bakše, Michelle Risman
Experiencing stress and support while studying at the Faculty of Social Work - Pg. 293 - 306

Keywords:

professional development, competences, mental health, study process.

The study addresses interweaving personal circumstances of students of social work and the faculty processes on systemic, organisational and relational levels which influence the course of students' studies at the Faculty of Social Work, University of Ljubljana. The purpose of the research is to determine how different personal life circumstances of students influence the course of studies, and how the Faculty supports or fails them at all three levels. The authors draw attention to mutual responsibility for the successful course of the study process; they strive to overcome absolute individual responsibility in a system of general requirements, which responds to diversity with ignorance, stigma and sometimes even violence. The research addresses the role of the faculty to equip students on a personal and professional level for responsible and demanding practice of social work.
Vito Flaker
Corona virus institutionalis – crown institutional virus - Pg. 307 - 324

Keywords:

coronavirus, old age homes, total institutions, deinstitutionalisation, long-term care.

The Covid-19 epidemic has mostly affected old people, not those who live at home, but those in old age homes. As many as four-fifths of those deceased in the epidemic were residents of these institutions. The analysis shows that the essential moment of infection is institutionality, not age, that it is almost an institutional epidemic. The total make-up of these institutions presents a significantly higher risk of transmission of infection – due to increased human concentration and increased frequency of contacts, but also because of the institutional structure and ethos that objectifies residents and deprives them of the power of action. The deceased residents can be seen as (passive) victims not only of the virus but also of the institutional nature of the organisation of care (prevailing in Slovenia). The debate has neglected this so far, the "safety" measures did not allow transfer to community care, which would give residents the same level of safety as the rest of the population, since such services allow for a greater degree of self-isolation and control of contacts. The deceased residents are victims of a delay in deinstitutionalisation and in introduction of a potent, community based long-term care. These are the pressing tasks for the future, if we are to ensure that old people at least have the safety, but also a decent life worth living.
BOOK REVIEWS