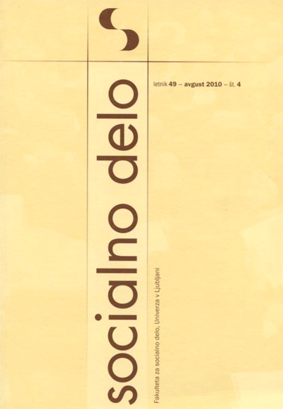 Socialno delo Journal is the only scientific periodical publication for social work in Slovenia. It's been published since 1961. From 2019, the journal adheres to open access format. Four issues are published per year: 1 (Jan-Mar), 2 (Apr-Jun), 3 (Jul-Sep), 4 (Oct-Dec). Abstracts are included in data bases: ERIH PLUS, International Bibliography of the Social Sciences IBSS), and EBSCO SocIndex with Full Text. The journal is published by Faculty of Social Work, University of Ljubljana. Journal is so-financed by Slovenian Research Agency (ARRS). Texts published in Socialno delo Journal are licenced under Creative Commons licence: CC BY-SA
ISSN 0352-7956
Journal history
For the development of scientific publishing in the field of social work in Slovenia and for the formation of the Socialno delo journal, the following years are important:
1954: the beginning of professional and scientific publishing in social work. In this year, the professional newletter Vestnik Sveta za zdravstvo LRS in Sveta za socialno varstvo LRS was published. It was published until 1961 and covered the fields of health and social care in the then People's Republic of Slovenia. Vestnik contained articles in the field of social work, regular reports on the work of the Association for Social Workers and also reports on the work at the Higher School for Social Workers. Considering these facts, Vestnik can be recognised as the first predecessor of the Socialno delo journal.
1961/1962: the beginning of an independent periodical publication in the field of social work. In 1961 Vestnik split into two journals. Zdravstveno varstvo and Vestnik Sveta za socialno varstvo LRS were established. The first issue of Vestnik was published in 1962. It later changed its title several times, but was published regularly as the only professional and scientific periodical in the field of social work in the Slovene language.
1982: the journal, which was published at the time under the title Vestnik delavcev na področju socialnega dela, was renamed Socialno delo - journal for theory and practice.
1994: Socialno delo becomes a scientific journal and has been published under this title ever since. At that time, the journal also gets its own recognizable format and graphic design.
2013: the digitized archive (1982–2012) of the Socialno delo journal was published on the Digital Library of Slovenia portal, and the journal began to be published regularly in online form alongside the printed edition.
2019: Socialno delo journal starts to be regularly published in open access on the website https://www.revija-socialnodelo.si along with the printed edition.