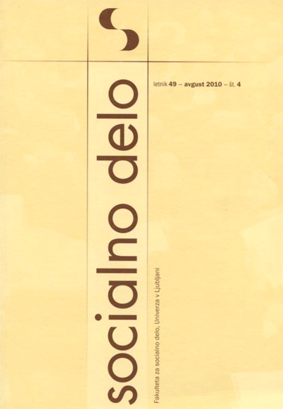 Socialno delo Journal is the only scientific periodical publication for social work in Slovenia. It's been published since 1961. From 2019, the journal adheres to open access format. Four issues are published per year: 1 (Jan-Mar), 2 (Apr-Jun), 3 (Jul-Sep), 4 (Oct-Dec). Abstracts are included in data bases: ERIH PLUS, International Bibliography of the Social Sciences IBSS), and EBSCO SocIndex with Full Text. The journal is published by Faculty of Social Work, University of Ljubljana. Journal is so-financed by Slovenian Research Agency (ARRS). Texts published in Socialno delo Journal are licenced under Creative Commons licence: CC BY-SA
ISSN 0352-7956
Publication ethics and publication malpractice statement
Publication Ethics and Publication Malpractice Statement
Here the standards of expected ethical behaviour of the participants in publishing procedure for the Socialno delo journal are described. Each publication reflects upon the quality of the authors, their supporting institutions, the editor, editorial board, as well as the publisher. This cooperation is furthered by the explicit statement of ethical standards for all parties involved. These standards are based on recommendations made by the Committee on Publication Ethics (COPE) and as informed by the aspirational principles outlined in COPE's Core Practices.The aim of these guides is to promote thorough honesty, transparency, accountability, and respect for all parties involved in the act of publishing: the author, the editor (and the editorial board), the peer reviewer, and the publisher.
Duties of authors:
• Standards of reporting: authors of reports of original research should present an accurate account of the work performed as well as an objective discussion of its significance. Data presented in the paper that form the basis of the research should be exact and precise. The paper should contain enough details and references that other authors can cite them. Fraudulent or intentionally incorrect statements are considered unethical and unacceptable.
• Data access and retention: authors may be asked to provide the raw data in connection with a paper for editorial review, and should be prepared to provide public access to such data, if practicable, and should, in any event, be prepared to retain such data for a reasonable time after publication. More about research data here.
• Originality and plagiarism: authors should ensure that they have written a completely original work and that, if they used works and/or words of others, these are correctly cited. Plagiarism takes many forms, from 'passing off' another's paper as the author's own paper, to copying or paraphrasing substantial parts of another's paper (without attribution), to claiming results from research conducted by others. Plagiarism in all its forms constitutes unethical behaviour and is unacceptable. If plagiarism is suspected during the submission and review process, the author is required to clearify the situation to the editors. If plagiarism is confirmed, the text will be eliminated from the publication process. Plagiarism may also constitute a violation of copyright law, which may be legally punishable.
• Multiple, redundant and concurrent publication: in general, an author should not publish manuscripts that describe the same results of the same research in more than one journal or primary publication. Submitting the same manuscript to more than one journal concurrently constitutes unethical behaviour and is unacceptable.
• Notification of sources: an author should always appropriately cite a work done by others. When reporting about a work, author should cite all publications that influenced this work. Information received privately, for example in conversation, correspondence or discussion with third persons, should not be used or reported without explicit written permission of the source. Information gained during a confidential work, for example while reviewing manuscripts or applications for subsidy calls, should not be used without explicit written permission of the author of the work submitted in these procedures.
• Authorship: authorship and co-authorship is limited to those persons who are real (co)authors of the text. Order of (co)authors should be consistent with the size of their contributions in the final version of the paper. Potential other persons who are not authors of the text but are nevertheless important for its existence (for example, they contributed to the research project or to other contents that are the topics of the paper) can be thanked by the authors in a footnote or in other appropriate place in the paper. The submitting author should also ensure that all co-authors have seen and approved the manuscript prior to submission.
• Hazards and human subjects: for research that involves human subjects, the author should ensure that the manuscript contains a statement that all procedures were performed in compliance with relevant laws and institutional guidelines and that research ethical standards were observed. Authors should include a statement in the manuscript that informed consent was obtained for experimentation with human subjects. The privacy rights of human subjects must always be observed.
• Disclosing and competing interests: in their manuscript, all authors must disclose potential financial or other major conflict of interests that might affect results or interpretation of their manuscript. All sources of financial support for the project should be clearly stated.
• Major errors in published work: if an author finds a major error or incorrect information in his/her own published paper, it's their duty to immediately inform the editor of the journal or publisher and to cooperate with the editor in removing or correcting the paper.
Duties of editors and the editorial board
• Peer-reviewing procedure: editors respect stated and written peer-reviewing procedures in accordance with the policy of Socialno delo journal, and make sure that peer-reviewing procedures are impartial and anonymous (double-blind peer-review).
• Publication decisions: The editor of the journal is responsible for deciding which of the submitted articles should be published. The decision will be based on the paper's importance, originality and clarity, and the study's validity and its relevance to the journal's scope. The editor is responsible for taking care of the entire peer-reviewing procedure. If opinion of an anonymous reviewer(s) is positive, the article is listed for publication. The authors get page break of the text before publication for authorisation purpose. In case of differing opinions about publishability of the article, the case is dealt with by the editor-in-chief with potential consultation with the editorial board. All scientific articles are peer-reviewed anonymously, all non-scientific contributions are examined and need approval before being published.
• Principle of confidentiality: the editor is bound by the principle of confidentiality, including the protection of the author's identity till the end of peer-reviewing procedure.
• Fair play: submitted manuscripts are evaluated for their intellectual content without regard to race, gender, sexual orientation, religious belief, ethnic origin, citizenship, or political philosophy of the authors.
• Disclosure and conflicts of interest: unpublished materials disclosed in a submitted manuscript are not to be used by the editor or editorial board member without the express written consent of the author. Editors should recuse themselves (i.e. should ask another member of the editorial board instead to review and consider) from consideration of manuscripts in which they have apparent conflicts of interest resulting from competitive, collaborative, or other relationships or connections with any of the authors, companies, or institutions connected to the papers. Editors require all contributors to disclose relevant competing interests and to publish corrections if competing interests are revealed after publication. If needed, other appropriate action may be taken, such as article retraction or expression of concern. Every potential breach of publishing ethics will be reviewed, even if discovered years after publication.
Duties of reviewers:
Reviewers take part in editorial decisions pertaining to admission of articles for publication, and importantly contribute with their expertise and evaluation.
• Contribution to editorial decisions: an expert evaluation by the reviewer helps the editor in making editorial decisions and can, in communication with the author via the editor, helps the author to improve his/her paper.
• Promptness: reviewers' duty is to do their job quickly and professionally. Every selected reviewer who doesn't feel competent enough to inspect the research described in the manuscript, or who knows that he/she won't be able to write the review on time, must notify the editor about this and should refuse to write the review.
• Principle of confidentiality: reviewers should treat all manuscripts that they received for review purpose as confidential documents. They should not disclose the documents to others or discuss them with others.
• Standards of objectivity: reviewing manuscripts must be done objectively. Personal criticisms of the author(s) are not appropriate. Reviewers should express their opinions clearly and with arguments.
• Acknowledgment of sources: Reviewers should identify relevant published work that has not been cited by the authors. Any statement that an observation, derivation, or argument had been previously reported should be accompanied by the relevant citation.
• Ethical awareness: A reviewer should be alert to potential ethical issues in the paper and should bring these to the attention of the editor, including any substantial similarity or overlap between the manuscript under consideration and any other published paper of which the reviewer has personal knowledge. Any statement that an observation, derivation, or argument had been previously reported should be accompanied by the relevant citation.
• Disclosing information and competing interests: reviewer should keep all protected information described in the paper as confidential and should not use it for his/her personal benefit. They should refrain from reviewing manuscripts in case of competing interests emanating from competition relationship, cooperation relationship or other relationship or association with the author(s), organisation or institution related to the paper.