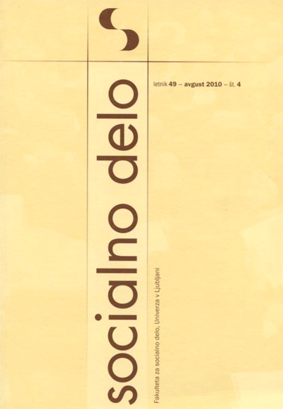 Socialno delo Journal is the only scientific periodical publication for social work in Slovenia. It's been published since 1961. From 2019, the journal adheres to open access format. Four issues are published per year: 1 (Jan-Mar), 2 (Apr-Jun), 3 (Jul-Sep), 4 (Oct-Dec). Abstracts are included in data bases: ERIH PLUS, International Bibliography of the Social Sciences IBSS), and EBSCO SocIndex with Full Text. The journal is published by Faculty of Social Work, University of Ljubljana. Journal is so-financed by Slovenian Research Agency (ARRS). Texts published in Socialno delo Journal are licenced under Creative Commons licence: CC BY-NC
ISSN 0352-7956
year 61, No.4

View the entire journal
SCIENTIFIC ARTICLES
Srečo Dragoš
Crossing the borders: on the occasion of the 60th anniversary of the Socialno delo journal - Pg. 271 - 284

Keywords:

profession, fascism, functionalism, system, ethics

After 60 years of publication of the Socialno delo journal (dedicated to social work), we found ourselves in a very unfavorable social environment. When the state and its systems do their job poorly, the quality of life deteriorates for everyone, but first of all for the marginalized groups and strata, because they have the least power. The same applies to the science system, where marginalized professions and institutions are most affected. How to act in such cases in social work, including our journal? A false dilemma that imposes itself (especially) in tough social conditions is in relation to professional standards. Are professions – as special, specialized fields that are within the social division of work clearly distinguished from other activities – only responsible for their own field that is their jurisdiction? Or is it more true that tampering with other systems in the environment is also part of professional responsibility? The article states the reasons for the second option, namely, that crossing the borders, not closing inward, is correct. There are three types of arguments: normative, generic and systemic.
Simona Smolej Jež, Tamara Narat
Usefulness of existing databases on homeless people for policymaking - Pg. 285 - 299

Keywords:

homelessness, social care, information system, data quality, policy makers

The article, based on different quality indicators (such as stability of definitions, data accessibility, connectivity and data interchangeability, frequency of data collection, targeting population, exclusivity and data accuracy), explores three types of databases on homeless people. Among analyzed databases, there are: a) database on social care programmes financed by the Ministry of Labour, Family, Social Affairs and Equal Opportunities; b) database on social care programmes included in evaluation sheme financed by this ministry; c) database on information system of centres for social work. The article's main contribution is a systematic review of databases usefulness, their (dis)advantages, and opportunities for researchers and policymakers.
Eva Juren, Ana M. Sobočan, Anže Jurček
Perceptions of professional identity and its formation during education at the Faculty of Social Work, University of Ljubljana - Pg. 301 - 315

Keywords:

students, focus group, practical training, mentorship, reputation

Professional identity in social work can be described as a collection of identifiable and enduring professional qualities of social workers that bind them together as a professional group and make them different and unique compared to other professional groups. As the social work profession is devalued and stigmatized around the world, exploring the processes involved in developing a strong and positive professional identity is of great importance. The need to explore social work professional identity has been recognized in some places abroad and has mainly focused on researching professional identity formation during social work education. This paper presents findings on the definition and role of professional identity in social work, focusing on professional identity formation during education at the Faculty of Social Work, University of Ljubljana. Qualitative research on social work students' perceptions of professional identity is presented, as well as suggestions for a more frequent and discrete treatment of the topic during the education of future social workers.
Andreja Grudnik Seljak
Planning discharge from a psychiatric hospital from the social workers' perspective - Pg. 317 - 335

Keywords:

social work, health care, needs assessment, team work, user participation, ethical dilemmas

Planning discharge is the central task of social workers in a psychiatric hospital. Effective hospital discharge planning is a team process based on assessing needs and finding suitable responses to them. The research results show considerable inconsistency in this area, as the process of discharge planning is initiated at different times. It is especially the users' poor health that does not allow their wishes and needs to be consistently considered, and prevents user participation and autonomy. Consequently, patronizing practices are inevitable. Being treated in a psychiatric hospital is still associated with considerable stigma. The research findings show that social workers feel as equal members of department teams and face plenty of ethical dilemmas at their work. Undergraduate studies have equipped social workers with a wide specter of theoretical and practical knowledge; however, they would like the study programme to be supplemented with health care topics.
REPORT
BOOK REVIEWS