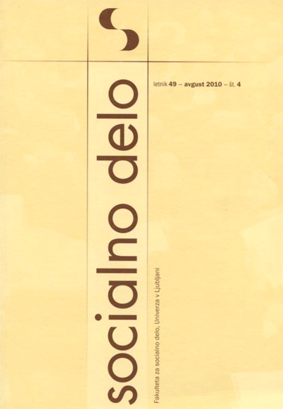 Socialno delo Journal is the only scientific periodical publication for social work in Slovenia. It's been published since 1961. Four issues are published per year: 1 (Jan-Mar), 2 (Apr-Jun), 3 (Jul-Sep), 4 (Oct-Dec). For publication purposes, we accept theoretically and methodologically good-quality, original and review scientific articles from the field of social work that have managed to get a positive double-blind review. We also publish book reviews, polemics, research reports and expert contributions. In regular issues, we publish articles presenting research results on the field of theory and practice of social work. Thematic issues are dedicated to in-depth perspective in current themes or themes that are particularly important for development of social work. For publication, we accept articles in Slovene and English languages. Abstracts are included in data bases: International Bibliography of the Social Sciences IBSS), Sociological Abstracts and EBSCO SocIndex with Full Text.
year 60, No.4

View the entire journal
SCIENTIFIC ARTICLES
Mirjana Borenović
Personal assistance and user experience - Pg. 301 - 317

Keywords:

disability, independent living, evaluation, empathy, user representatives, disabled

In the 2019, a new Personal Assistance Act came into force with certain amendments and corrections. According to it, the individual's need for personal assistance is evaluated by the expert commission which produces a shared opinion about the contents and extent of personal assistance. The paper deals with the issue of inclusion and evaluation of user experience in the expert commissions. According to the law and current practice, people with disabilities can participate in the expert commissions as social work experts or as user representatives, if the applicant wishes to have a representative in his/her commission. The research done in 2019 proves that the involvement of people with disabilities in the expert commissions is essential for the success of the assessment, as it reduces the possibility of biased assessment based on prejudices against people with disabilities and the lack of understanding of their real abilities. Due to a similar life experience and knowledge of the field, a trusting relationship is established more quickly, which enables a sufficiently precise insight into the life of the individual so that a realistic assessment of the individual's need for personal assistance can be made.
Jolanda Stevanović, Katja Ronchi, Aljana Grčko Gradišar
The most frequent social problems of people after lower limb amputation at the University Rehabilitation Institute of the Republic of Slovenia – Soča - Pg. 319 - 329

Keywords:

social work, rehabilitation, disability rights, team work, biopsychosocial approach, multidisciplinary team

The paper is based on a research study about social work with people after lower limb amputation at the University Rehabilitation Institute of the Republic of Slovenia – Soča, Department for rehabilitation of patients after amputation, where a social worker is a member of a multidisciplinary medicine rehabilitation team. It is the first social work study in Slovenia addressing the most frequent social problems of people after lower limb amputation. The results indicate that the majority of individuals after lower limb amputation and their relatives are poorly informed about the possibilities for help at home and the rights arising from disability, as well as with the possibilities and procedures of obtaining the rights pertaining to social, health and disability insurance. Individuals were facing difficulties in various areas, such as care and support at home, social inclusion into the community, car driving, socioeconomic status and administrative procedures.
Katarina Cesar, Branko Gabrovec, Liljana Rihter
Active aging from the perspective of older people - Pg. 331 - 346

Keywords:

demographic change, population aging, health, quality aging

The challenge of a long-lived society is how to provide such support and help that we will be able to age as healthily and independently as possible. The article shows what are the important factors of quality aging, with special emphasis on the importance of a healthy lifestyle and within this, sports and recreational activity and social networks. A quantitative study on a non-randomized convenience sample of 209 people over the age of 65 conducted by a survey found that almost all surveyed older people estimate that they can maintain a healthy lifestyle and that their lives are most affected by age. Almost half of them are engaged in exercise three times a week or more, but more frequent activity is not associated with better health. More than half have three or more people available to whom they can turn for help, and they also better assess their health. However, self-assessment of health is not related to the frequency of socializing. The more educated are more likely to believe that they can influence their health through their lifestyle. Familiarity with activities and events for a healthy lifestyle, however, is weak. To promote a healthy lifestyle, measures are needed at all levels – micro, mezzo and macro.
PROFESSIONAL ARTICLES
Nina Plešec
Cooperation of school counselling service with parents of children with special needs - Pg. 347 - 358

Keywords:

social work in school, individualised programme, placement procedure, school counselling, participation of children, participation of parents

The paper examines working with children with special needs in regular primary school and focuses on the problem of lack of professional support that parents receive during the procedure of determining their children's special educational needs. It describes the role of school counselling service and the role of parents in the processes of cooperation and the creation of an individualised programme for a child with special needs. The aim of the research, which was conducted for the empirical part of a BA thesis, was to obtain, through interviews, the perspective of social workers who are working in school counselling service and the aspect of parents about the whole procedure of determining special educational needs. But above all, to highlight the experience of parents on the way to obtaining additional professional assistance. Results obtained through interviews with social workers indicate that social workers have noticed that parents have some prejudices and fears related to labelling their child. Parents consider that greater cooperation with is needed with school counselling service. The findings of research show that in the future bigger attention should be given to the formation and the implementation of individualised programmes in primary schools and their professional work with parents and children with special needs, rather than to the procedure of determining their children's educational needs.
Katja Verbovšek Zabukovec
Role of social work during the transition of young people with special needs into the workforce - Pg. 359 - 372

Keywords:

active employment policy, occupational rehabilitation, social inclusion, unemployment, disabled

Today's youth progressively face decisions that affect their future employment, confronting major obstacles, especially youth with certain disabilities, which leads to receiving the status of a child with special needs and later the status of a disabled person. Employment has an important societal and psychological function as it enables social and economic independence. The number of changes in this field has pushed employment seekers to fight unemployment and flexible forms of employment. Regarding the search of a solution to a complex unemployment problem of youth with special needs, social workers can be included as a support pillar, co-creating the preparation process for the market for gainful employment together with the young person in transition. Such social work is creative, works through dialogue and is solution-oriented, using social work approaches to encourage the user to take an active role in finding a profession and a workplace where they could demonstrate their knowledge. During this interaction a network of employers is formed, which engages in the process of employing the people with disabilities, and offers them opportunities to gain work experience in a genuine work environment. Such employers are socially responsible and at the same time entitled to subsidies and rewards for the employment of people with disabilities.
REPORTS
BOOK REVIEWS