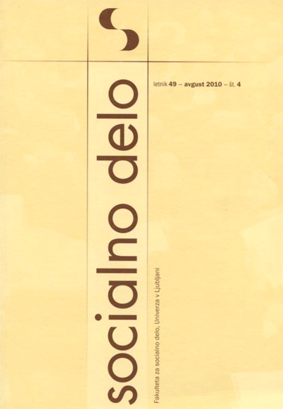 Socialno delo Journal is the only scientific periodical publication for social work in Slovenia. It's been published since 1961 and is important for development of social work as a scientific discipline and applied science. For publication purposes, we accept theoretically and methodologically good-quality, original and review scientific articles from the field of social work that have managed to get a positive double-blind review. We also publish book reviews, polemics, research reports and expert contributions. Four issues are published per year, some are regular, some special theme-related. In regular issues, we publish articles presenting research results on the field of theory and practice of social work. Thematic issues are dedicated to in-depth perspective in current themes or themes that are particularly important for development of social work. For publication, we accept articles in Slovene and English languages, therefore providing the journal to be engaged in local, regional and world currents in social work. Abstracts are included in data bases: International Bibliography of the Social Sciences IBSS), Sociological Abstracts and EBSCO SocIndex with Full Text.
year 60, No.2

View the entire journal
EDITORIAL
ADDRESS
SCIENTIFIC ARTICLES
Ana M. Sobočan
Ethical dilemmas and challenges to humanism in contemporary social work - Pg. 105 - 120

Keywords:

ethics, neoliberalism, risk, corporativism, welfare state, critical thinking.

Social work is permeated with ethical dilemmas. These also arise from the conflict between humanistic principles and the ethical imperatives of social work with current orientations in social policy and macroeconomic processes. From this point of view, various elements and factors of the neoliberal structure are also relevant for understanding modern social work practices characterized by deregulation, deprofessionalization, privatization, introduction of market principles into services, etc. In this way, social work loses its capacity to analyze and change the systemic, collective and individual conditions that organize and determine our lives. The notion of risk replaces the notion of needs, individual blame replaces the imperative of solidarity, and so on. As the results of research with social workers in Slovenia and foreign literature show, resistance to the demoralizing situation in the profession does exist. Social work needs to resume its advocacy, critical, radical stance, and with the help of critical reflection and other methods defend its mandate for human rights and social justice.
Darja Zaviršek, Sonja Bezjak
Green social work and environmental justice in the case of water and hydropower - Pg. 121 - 133

Keywords:

green social work, hydroelectric power, environmental disasters, Southeast Europe, environmental justice, Kruščica.

Green social work emphasizes that humans and the natural environment (taking into account flora and fauna) should not be separated and that a holistic understanding of human and natural structures is necessary. The goal of green social work is to develop social work practices that promote human-nature interdependence, redistributive justice, and is critical to new social inequalities. Environmental disasters impact people unequally and affect those who are most economically vulnerable more severely; this is also reflected in people's health and mental health outcomes. The article presents an analytical example of environmental justice and environmental grief concerning the water resources and the use of hydropower plants. Despite the latter being understood as "green energy", the article emphasizes the need to consider studies that see hydropower plants as a cause of environmental degradation. As green social work mobilizes communities and individuals to resist new inequalities, the article focuses on Southeast Europe, where there is much local resistance to the construction of new hydropower plants. The case from Bosnia and Herzegovina is described in detail, where the "brave women of Kruščica" successfully stopped the interests of local and international investors and corporations from building hydropower plants in the local area and strengthened community solidarity. This is a powerful story for understanding green social work.
Srečo Dragoš
Ideology and structural violence - Pg. 135 - 152

Keywords:

social policy, national character, fascism, National Socialism, civil society.

Unlike ordinary, known, sudden and individual violence, structural violence is more difficult to notice because it is often – by both actors and victims – reduced to unsystematic and sporadic events. The mechanisms of reduction (of causes, consequences) in structural violence are similar to those in ideological thinking, which is discussed in the first part of this article. The other two parts of the paper are empirical. They are intended for the analysis of ideological reductions in the field of social policy in Slovenia, producing the typical effects of structural violence. The target is not just marginalized groups (although they are the most affected), but also the culture of the whole society in terms of the characteristics summarized in the (romantic) expression »Slovenian national character«. The European comparison shows that the Slovene national character is the most problematic in terms of values regarding the attitude towards oneself and in relation to the authorities. When this trait (of culture) coincides with intolerance of others, with authoritarian government, with prevailing radical views on changing society, and with negative trends in social policy, we get an explosive mix.
Shulamit Ramon
Attending to political conflict in social work today and in the near future: Focus on European social work - Pg. 153 - 166

Keywords:

migration, illiberal state, authoritarianism, welfare systems, refugees, asylum seekers.

This paper is aimed at looking at how social workers in Europe tackle the inevitable political issues embedded in their work as intermediaries between political authorities (governments and local authorities) and social work clients affected by political conflict. The notion that social work can be a-political is rejected from the outset. The outcomes of armed political conflict for the populations involved, as well as for social workers who are citizens in these countries, and who remain in their country of origin, are briefly looked at. The migration wave of 2015–2017 and its aftermath is used as the key example with which to explore further the issue of clash between social work values and those of the majority of the European member states governments. Key changes taking place since 1980s in political ideologies of these states, including the issues of nationalism alongside neoliberalism and imposed changes in the welfare state which reveal going back to pre 2nd World War perception of poor, disabled, and destitute people are examined. The impact of these changes on attitudes towards refugees, asylum seekers and migrants are investigated. Some key examples of social workers attempting to change the worsening situation for their clients are given. The paper ends in considering the options for social workers wishing to follow the values of social work in their collective and individual practice.
Jelka Zorn
Violent borders, securitization, and criminalization of solidarity - Pg. 167 - 180

Keywords:

migration, refugees, autonomy, pushback, social work, activism.

Autonomy of social work is undermined by securitization, which is a form of structural violence against migrants and refugees. Police pushbacks at the European borders are violation of international standards and the right to have rights. In such racist social environment, groups and individuals, who show solidarity with migrants, are also criminalised and threatened. Authorities consider solidarity a crime. The author combines research methods of observance participation and auto-ethnography. These are applied to search the position of social work in order not to reproduce inequalities and violence, but on the contrary, to conceptualize and work in line with professional values.
REPORTS
BOOK REVIEW