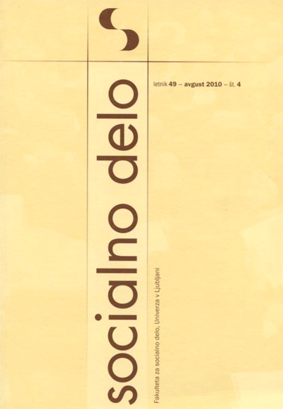 Socialno delo is a peer-reviewed academic journal for social work with a long tradition (since 1957). Four issues are published per year. Articles in Slovenian ('socialno delo' means 'social work') or English are accepted and published. Prospective contributors should read guidelines for authors. The abstracts are processed for these databases: International Bibliography of the Social Sciences (IBSS), Sociological Abstracts, and EBSCO SocIndex with Full Text.
year 60, No.1

View the entire journal
ARTICLES
Lucija Klun
To exclude by including: transformed rasisms of modern educational and social care practices for »inclusion« of the Roma - Pg. 3 - 17

Keywords:

structural violence, asimilation, inclusion, discrimination, inequality, antirasism.

The Roma in Europe have been targets of violence, punishment, exclusion and patologisation for centuries, but modern, enlightened urge to re-educate was supposed to »help« them to get rid of assigned inferiority, abandon their problematic behaviours and get assimilated. The author proves that modern programmes for incusion are, despite their humanistic flair and obligation to minority rights protection, in accordance with previous structural violence. In most cases, benevolent »inclusion« means social, cognitive, and language assimilation, but for purpuses of multiculturalism the Roma are allowed to retain some exotised cultural characteristics. Such an interpretation paints the Roma as a people whose only problem is not being progressive enough – they are subjected to all the persecution and attempts at »inclusion« only because their point of development is incompatible with the European civilisation. Unreflected »inclusion« of the Roma, mostly by means of educational and social care apparatus, produces new stages of exclusion, discrimination and rasist treatment, keeping the border between Us and Them intact. If re-education and inclusion attempts fail, now the Roma are to blame. Despite the fact that inclusion of the Roma has officially become an imperative, the author points to disputable supranational and national strategies and guidelines on inclusion, and portray them as just a new disguise of an old exclusion.
Živa Humer
"It's best to have me under a father": experiences of gay fathers with implementing their parental rights and child care - Pg. 19 - 35

Keywords:

fatherhood, caring masculinities, gays, families, discrimination.

In the context of involved fatherhood, we focus in this article on parental stories and experiences of gay fathers in caring for children. Based on an analysis of four interviews with gay fathers, their experiences of fatherhood and fathering, child care, and parenting rights are presented, which show the inequalities and discrimination they're faced with. Gay fathers' narratives of care practices point to parenting and childcare practices as a key identity point in their lives. Through primary parenting, involvement in the child's life and childcare practices, gay fathers are expanding involved fatherhood and co-create a model of caring masculinities based on intimacy, care practices, relationships and reciprocity.
Eva Jambrek
Children's participation in divorce mediation under the Family Code: from concept to implementation - Pg. 37 - 54

Keywords:

child, involvement, divorce, dispute resolution, family mediation, child\'s voice.

The article analyses the role of a child in divorce mediation through disciplinary integration of the theoretical concepts of mediation, social work and family law. Despite its informal nature, the mediation process shall ensure a comparable protection level of children's right to participation as children can expect from formal family law proceedings. In Slovenia, an important step towards consolidating the position of children in mediation was achieved in 2017 with the adoption of the Family Code, which enables a mediatior to include a child in mediation. The participation of children in mediation pursues several goals: it ensures a child's right to express views freely, enables consultation with a child about their experiences of family separation and supports the empowerment of a child by a trusted person. The article presents a comprehensive concept of child inclusive mediation and its implementation, taking into account the Slovenian normative regulation of mediation and children's participatory rights.
Gaja Černe, Liljana Rihter
Support and help for people with anorexia: positive and negative aspects of pro-ana websites - Pg. 55 - 67

Keywords:

eating disorders, internet, website support groups, social work.

Individuals suffering from eating disorders often turn to virtual communities for help and support, as these are often more accessible than social workers. In social work the so-called pro-ana websites are poorly known. In the paper, findings on the beneficial and harmful effects of pro-ana websites are presented, together with their implications for social work. A qualitative online survey on a non-random convenience sample of 20 pro-ana website users is described. The main function of pro-ana websites is to provide users with the opportunity to anonymously obtain information, receive guidance and emotional support. However, the sense of community and inclusion can also have negative effects, as some pro-ana websites encourage eating disorders. It is, therefore, important that we, as social workers, understand what attracts users to these websites and identify which user's needs are met quicker and easilier through them. This way we can offer appropriate help and support when we meet the users.
PROFESSIONAL ARTICLE
Kristina Urh
Comparison between the processes of national and international adoptions in Slovenia and Croatia - Pg. 69 - 79

Keywords:

centres for social work, children\'s rights, reproductive rights, abortion, anti-racism, adopters.

A research on social workers with experience in intra- and intercountry adoption procedures in the Republic of Slovenia and the Republic of Croatia is presented. The purpose of the research was to show the differences and similarities between the two procedures in both countries, to relate to women's reproductive rights, to show the latest statistics, to review the perspective of children and potential adopters on the procedure and, above all, to come up with proposals on how to work more effectively in the field of adoptions.
BOOK REVIEWS