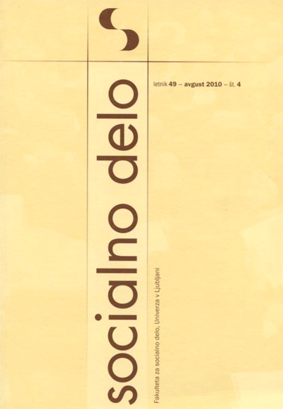 Socialno delo Journal is the only scientific periodical publication for social work in Slovenia. It's been published since 1961. Four issues are published per year: 1 (Jan-Mar), 2 (Apr-Jun), 3 (Jul-Sep), 4 (Oct-Dec). For publication purposes, we accept theoretically and methodologically good-quality, original and review scientific articles from the field of social work that have managed to get a positive double-blind review. We also publish book reviews, polemics, research reports and expert contributions. In regular issues, we publish articles presenting research results on the field of theory and practice of social work. Thematic issues are dedicated to in-depth perspective in current themes or themes that are particularly important for development of social work. For publication, we accept articles in Slovene and English languages. Abstracts are included in data bases: International Bibliography of the Social Sciences IBSS), Sociological Abstracts and EBSCO SocIndex with Full Text.
year 61, No.1

View the entire journal
INTRODUCTION TO THEMATIC ISSUE
SCIENTIFIC ARTICLES
Mojca Urek, Charlotte Buitenkamp, Trish Hafford-Letchfield, Agnes Higgins, Brian Keogh, Sarah Lewis-Brooke, Alfonso Pezzella, Irma Rabelink, Nina van der Vaart, Anže Jurček
»Auntie, with whom are you lesbian?«: With education against the invisibility of LGBT+ old people in social and health care - Pg. 7 - 26

Keywords:

inclusive care, stigmatisation, life stories, intersectionality, ageism, World Café

The specific characteristics of life course and past experiences of LGBT+ old people require knowledge and awareness on the part of carers. In this paper, an international perspective to shed light on key issues in the field of inclusive care for LGBT+ older people is used, with a particular focus on the Slovenian context, drawing extensively on the findings of the European project "Being me" (2018–2020). In the project, we aimed to explore best practice in the area of education and to develop online learning materials and tools for social and health care workers. Among the principles and approaches that guided our research, the focus was put on intersectionality, resilience, strengths perspective, life stories, and collaboration with LGBT+ old people in all phases of the project.
Anže Jurček, Mojca Urek, Ana M. Sobočan
Lives of LGBTQ+ people over 50 at the time of the Covid-19 epidemic - Pg. 27 - 40

Keywords:

personal experience, social network, accessibility of services, safe spaces, identity

The Covid-19 epidemic and associated changes in everyday life have exacerbated existing inequalities between people, particularly in the case of many invisible, vulnerable, and marginalised groups, and exposed systemic weaknesses in addressing their needs. The study "The needs of LGBTQ+ people over 50 during the Covid-19 epidemic" explored the impact of emergencies on the daily lives of LGBTQ+ people. In the interviews, interviewees highlighted the hardships of those LGBTQ+ people who have a small social network and/or are not in a partnership, as well as limited access to shared events and safe spaces where people can live according to their identity. Interviewees had both positive and negative experiences with health and other services and emphasised the importance of having access to services and the need for aware and trained providers who are able to accommodate to the unique circumstances of LGBTQ+ people. The findings highlight the importance of researching the experiences and life trajectories of people in times of emergencies in order to better respond to identified needs.
Trish Hafford-Letchfield, Sue Westwood, Michael Toze
Navigating LGBT+ ageing inequalities during challenging times: A case study of UK LGBT+ community organisations - Pg. 41 - 59

Keywords:

advocacy, COVID-19, mandatory isolation, human rights

The COVID-19 pandemic has had a significant impact on older people's lives on a global scale but for some marginalised communities have seen a marked exacerbation of health and other inequalities. Research has highlighted the impact of the pandemic on lesbian, gay, bisexual and trans (LGBT+) people's lives, but less has been documented about the experiences of LGBT+ older communities and how their specific needs have been mediated. Community-based advocacy organisations are central to promoting LGBT+ human rights in the UK through its social movements, and this paper explores their role and significance during a distinct period of the UK mandatory isolation. Drawing on a case study approach based on qualitative interviews with six key LGBT+ community organisations in the UK, we captured their insights into how they navigated support for older people when faced with limited resources and the challenges posed by mandatory physical and social distancing. We position these events in current discourse about structural and health inequalities for LGBT+ ageing in the UK.
Simon Maljevac, Roman Kuhar, Alenka Švab
Silent generation: older gays and lesbians - Pg. 61 - 76

Keywords:

gay, lesbian, LGBT, aging population, coming out, identity

Older gays and lesbians are one of the most invisible social groups as they experience "double invisibility": in Western societies that celebrate youth, they are invisible as older and as older homosexuals. Existing research shows a different structure of social networks of older gays and lesbians compared to older heterosexuals, it points to fears of discrimination in care activities and feelings of exclusion from the LGBT community, which, like society at large, is defined by youth. This exploratory study for Slovenia identifies similar trends, with the key problem being the tension between an individual's stigmatized homosexual identity, which the elderly still mostly hide, and the LGBT community, which is not inclusive for older gays and lesbians. The purpose of the research was to identify key characteristics of everyday life of older gays and lesbians in the period before the existence of activism in Slovenia and the characteristics of the current position of older gays and lesbians in the LGBTIQ + community and society at large.
PROFESSIONAL ARTICLE
Existing and potential practices in the field of LGBTI older adults in Slovenia - Pg. 77 - 82

Keywords:

homes for the elderly, Saturday saloons, training, Legebitra

In the paper, rare existing practices in the field of LGBTI older adults in Slovenia are presented. More specifically, the author's experience gained while working for Association Cultural, Informational and Counseling Center Legebitra during 2017–2018 are presented. Guidelines for the future education of stakeholders and care providers for the older adults regarding awareness of LGBTI-older adults are stated, as well as guidelines for Slovenian organizations working with LGBTI older adults.
REPORTS
REVIEWS
INDEX